Interview with Susan Marx - Recent Artist Exhibiting at Hat City Kitchen
Now through March 2017, Orange, NJ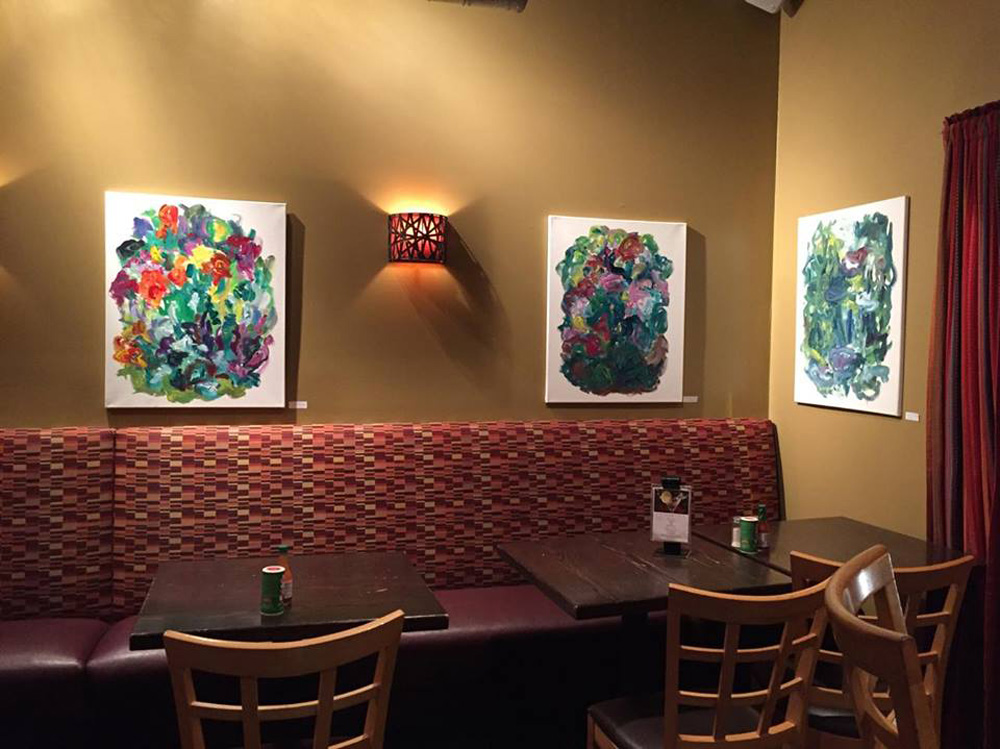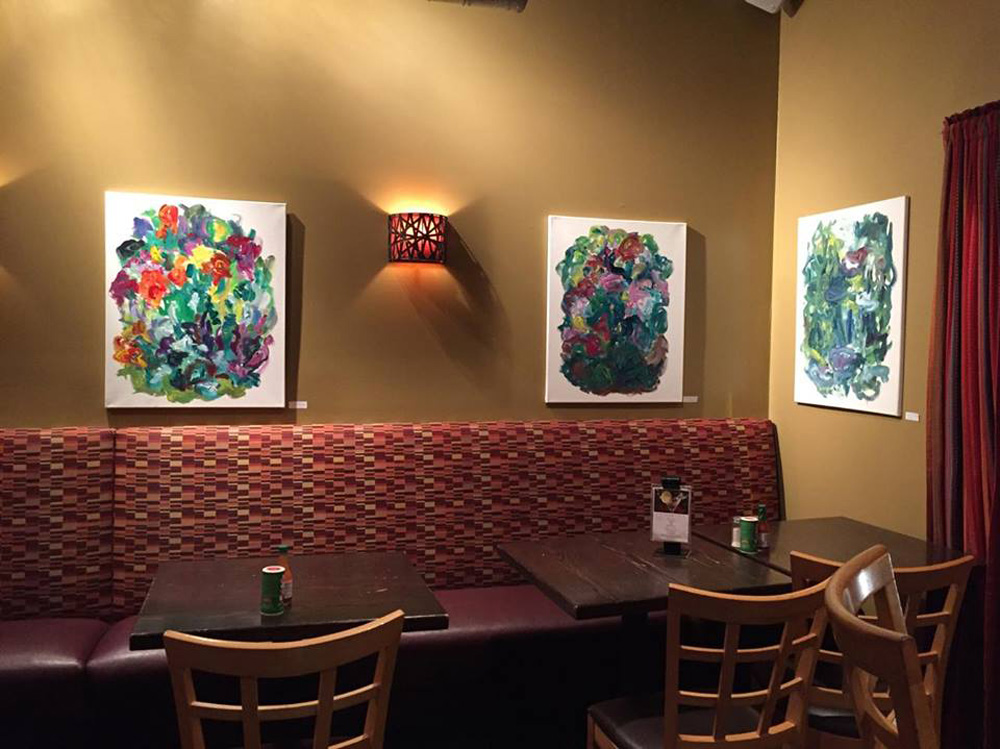 By Patricia Rogers | Posted December 15, 2016
Many of you already know the dining room of Hat City Kitchen is an orbiting art gallery powered by Valley Arts and curated by Jeremy Moss. We have had plenty of cool exhibits like the ORNG Ink and Arts Unbound group show, Bisa Butler, and Jeremy Moss, to name a few.
The last exhibit was Mundane Mondays – photographs by Kristen Turick. Turick's works were beautiful snapshots of everyday life. Now, you will see new abstract pieces by Susan Marx.
I have sort of known Susan for a while now, connecting through a couple Facebook groups for artists in the Valley and residents of the city of Orange. She is constantly exhibiting in New Jersey and New York. I hope to make it to one of her openings soon.
Susan Marx fell in love with painting when she was a young child. "I started as a plain air Impressionist, only painting outside. Something I could not do in the winter. So I started painting inside 'from inside my head.' Just putting down color with no recognizable subject matter in mind. I liked the result. And as a result my paintings painted outdoors have also become more abstract."
Susan has known about the Valley Arts District since its inception. She stayed on the Valley Arts email list with hopes to have a gallery show. She got in touch with artist Gayle Mahoney and attended the Artist Salon, a monthly gathering event for local older artists. Susan grew up in West Orange, New Jersey with her family, moving there in 1950. Understandably she was excited to see what was happening right in her neighborhood. She recalls when Hat City Kitchen was "Ricci's in The Valley."
Although she has attended popular Firehouse Gallery events like Open Orange and Slice of Orange, her solo show at Hat City Kitchen is her first here in the Valley Arts District. She's previously exhibited her work in New York City at Chelsea and Lower East Side galleries.
You can view her work at Hat City Kitchen through March 2017. The abstract impressionist painter pursued an art career after she retired. She approached galleries in New York and has had a successful career since then.
Read more about Susan Marx here: www.susanmarxartist.com
About the Writer
Patricia Rogers, #ValleyGirlNJ, lives in New Jersey's Valley Arts District. The native New Yorker works as a writer, blogger and community activist. Starting Masconsumption Media in 2012, she has been passionate about capturing the stories of the vibrant up and coming Valley Arts District neighborhood through her blog, zine, events and more. She blogs for Jersey Indie, Luna Stage, and Hat City Kitchen and offers many creative media services. Visit her blog www.masconsumption.com and keep up with your favorite Valley Girl on social media at @valleygirl_nj (Twitter / Instagram).