Meet Zahra Amanpour, Indiegrove Founder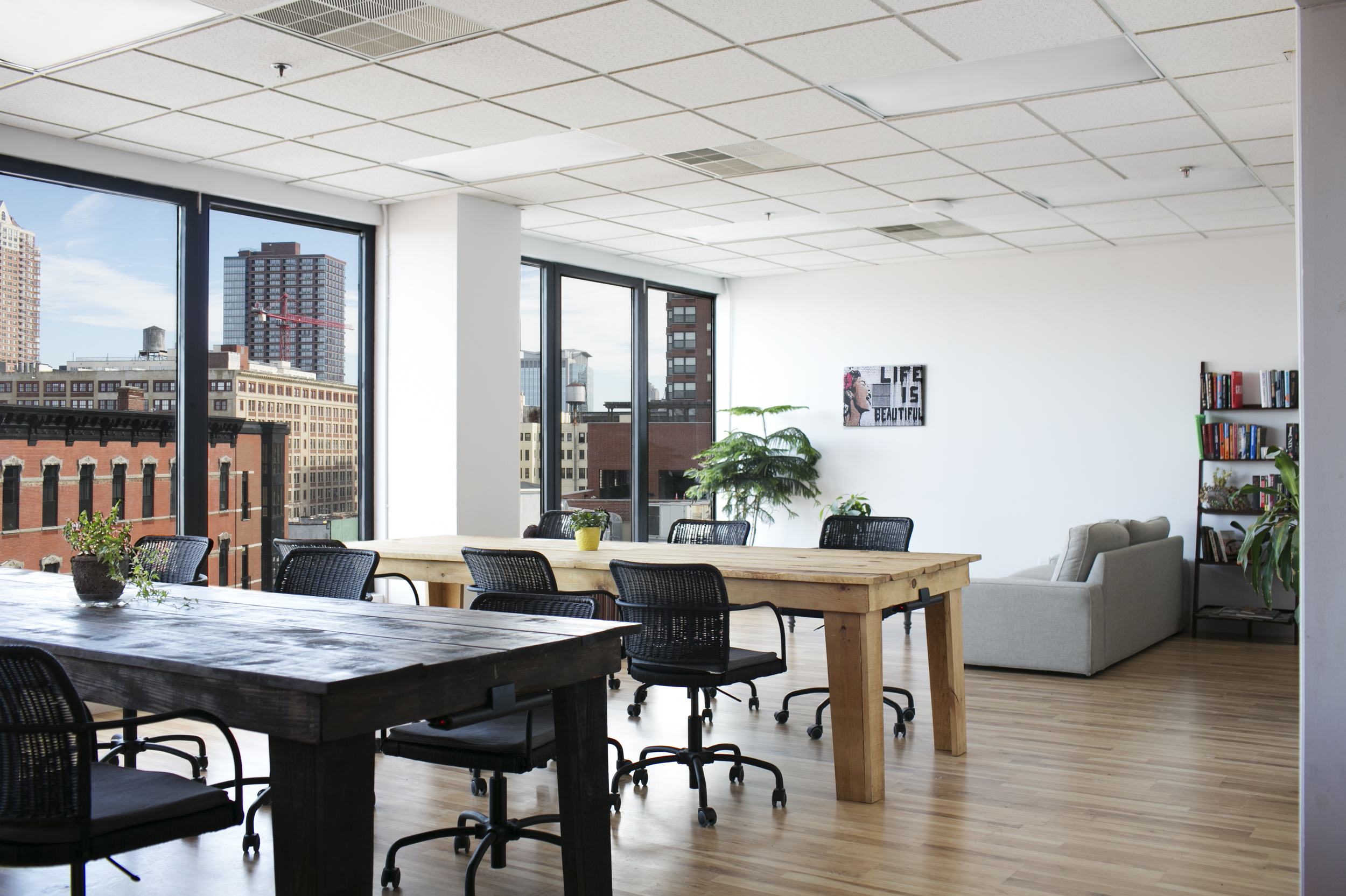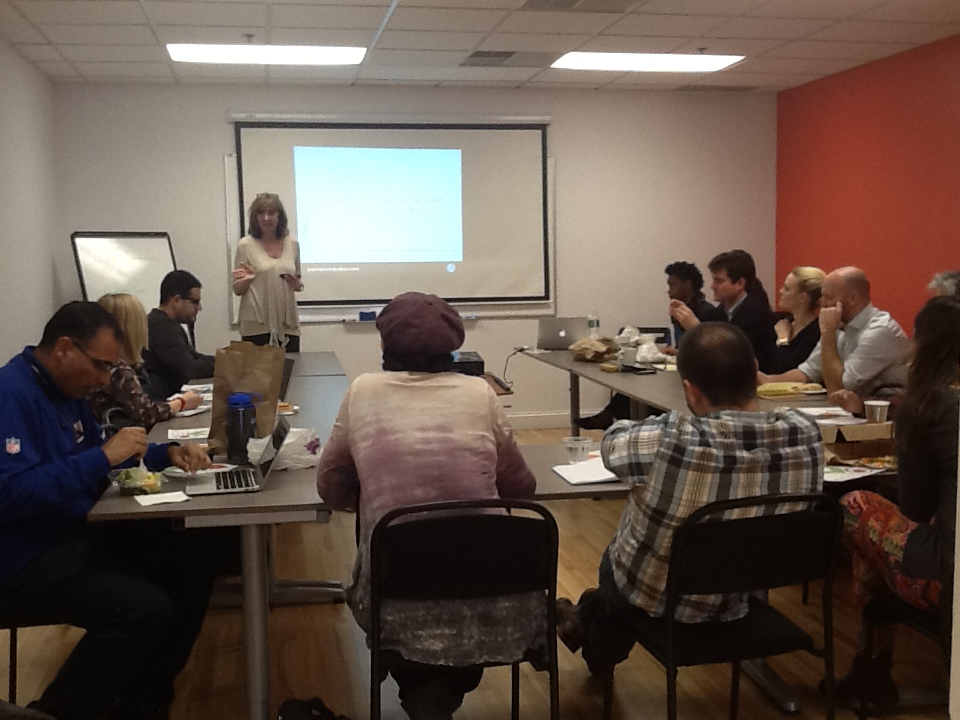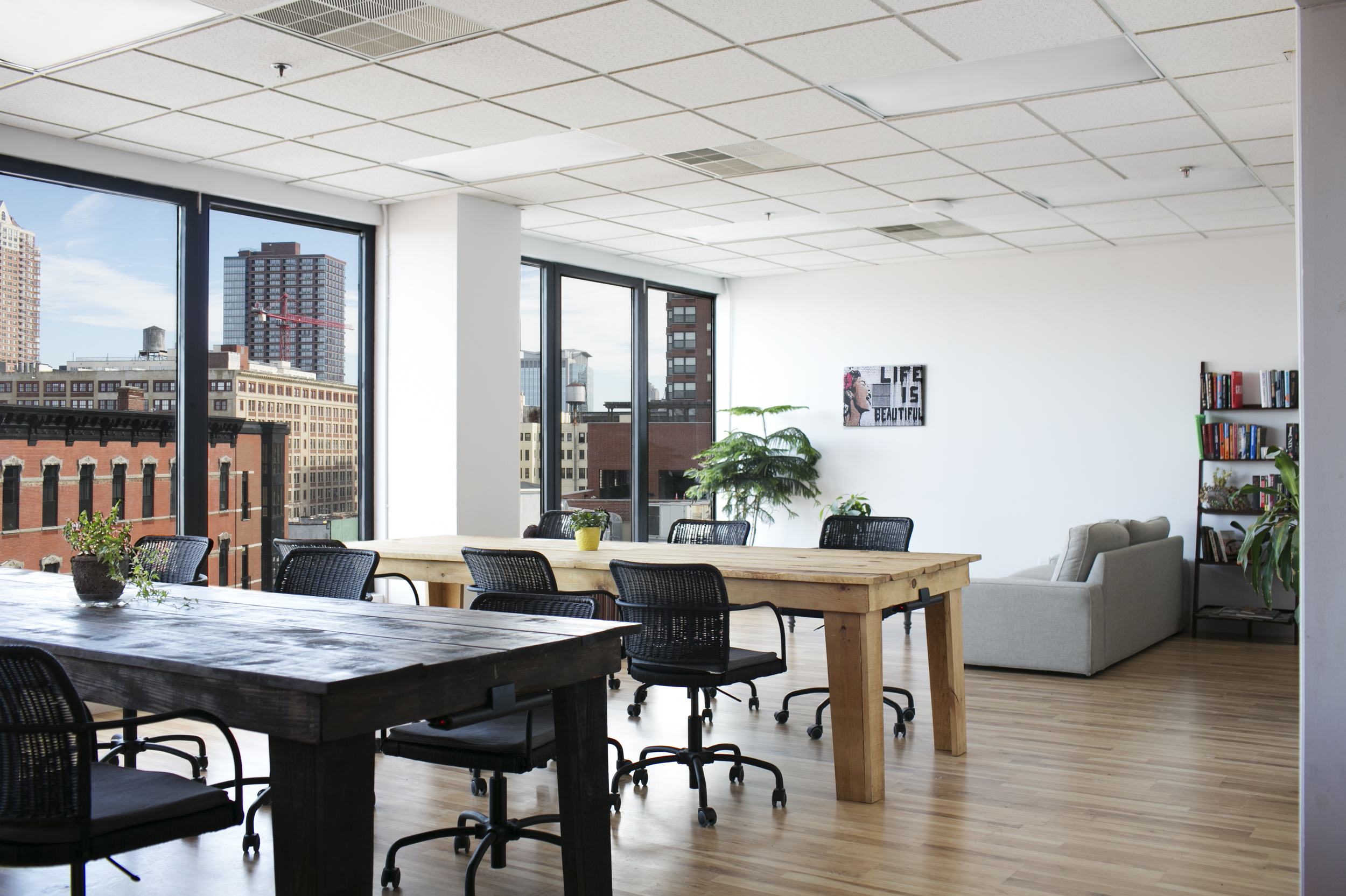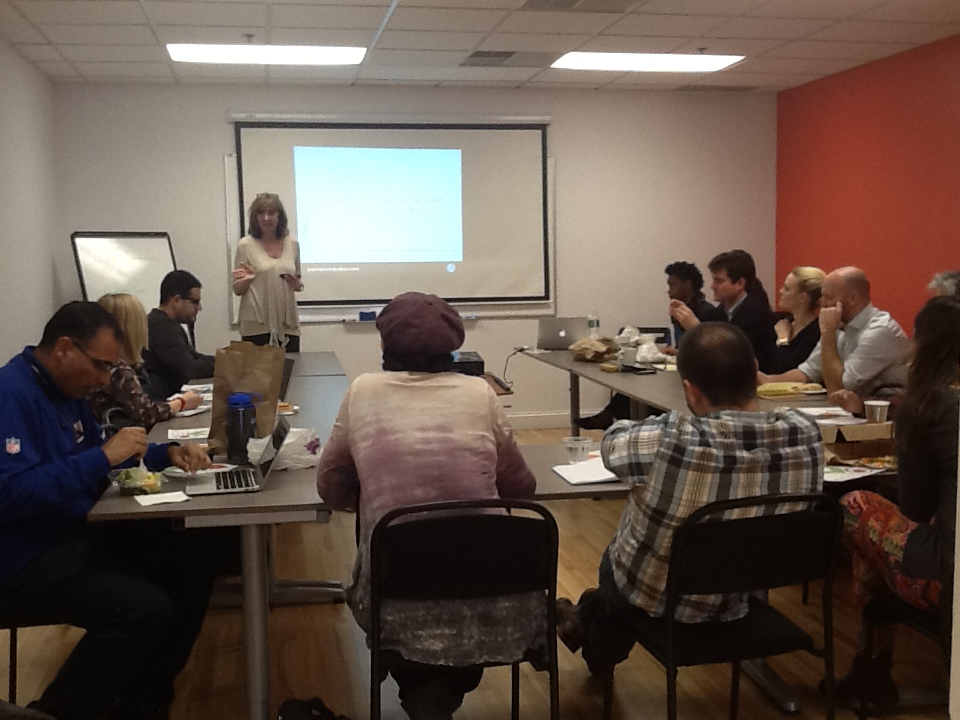 Is there anyone who thinks of themself as a social entrepreneur in Hudson County who hasn't at least heard of Zahra Amanpour? Zahra and I first became acquainted in 2013, and crossed paths almost daily when she selected me for a six-month incubator grant at Indiegrove coworking space in 2014 through Rising Tide Capital. Besides working in a space free from cats and a place to nap, the experience afforded me premium networking opportunities, free event space, and a super power to instantly impress potential new clients. I relished being surrounded by other independent business-minded folks in the ultra hip environment carefully curated by Ms. Amanpour. A kind and modest soul, don't let her calm, cool, collected persona fool you. She's a fierce entrepreneur's entrepreneur who walks the walk. I knew too little about Zahra leading up to this moment, and I'm grateful to her for this interview. I hope you find as much inspiration in her story as I do.
L.H.: What is your title?
Zahra Amanpour: Founder of Indiegrove.
What exactly do you do, and who do you help?
Indiegrove is a community of entrepreneurs and independent professionals in Downtown, Jersey City. We provide workspace, meeting rooms, business resources, educational events, and networking events. We offer a balance between comfort and professionalism and provide the resources entrepreneurs need to focus and be successful.
What's your background, personally and professionally?
I was born in Tehran, Iran. My family fled Iran after the revolution in 1980. I spent most of childhood in Northern Virginia, right outside Washington, DC, but also lived in Iraq for a couple of years. My father passed away when I was eight-years-old, so I grew up in a single mother household with my two sisters. I started working at 14 and supported myself through high school, college and graduate school waiting tables.
I received my B.A. in Human Services from George Washington University in 2001. After college, I took a six-month backpacking trip and visited nine countries in Europe, Africa, the Middle East, and Southeast Asia. During that trip I was introduced to economic development as a tool to alleviate poverty and empower change in communities. I returned to the US and moved to San Francisco where I got my first masters in social psychology from San Francisco State University. I started to develop a passion for social entrepreneurship and the idea of using for-profit business as a means for change. I felt that I needed a business education to have a better grasp of how the worlds of business and social good could be combined. I completed my MBA in International Business at University of San Francisco in 2006. While completing my degree, I became active in an organization called Net Impact, focused primarily on using business for good.
My fiancée, now husband, and I moved back to the East Coast and settled in Jersey City in 2006. My first job in New York was for a non-profit organization called Workshop in Business Opportunities (WIBO). That is where I fell in love with entrepreneurship. The organization focuses on empowering women and minorities in underserved communities through entrepreneurship. It is the first entrepreneurial training program in the United States and was founded in Harlem in response to the civil rights movement. It is by far the biggest influencer of my career path.
My next job was with the City of New York as the Executive Director of NYC Business Solutions at the Department of Small Business Services. My position grew to include the management of 18 different centers throughout the city, over $50 million dollars in contracts, and 90 employees. I learned how to build programs from scratch and scale. In 2012, I walked away from a promotion and decided to quit my job and start Indiegrove.
I have an 18-month-old little girl named Mina.
Where do you live?
JC! I lived Downtown for several years and moved to Journal Square about three years ago.
What do you do for recreation/fitness?
JCF Bootcamp–"All day. Everyday."–actually a few times a week. I also hike, camp, dance, eat good food, listen to good music (Hip-Hop!), and hang out with good friends.
How many people do you employ?
Two.
What or who have you found inspirational to your success?
The backpacking trip I took after college had a big influence on how I view the world and solidified my commitment to making my career meaningful and impactful. As I mentioned earlier, WIBO was the biggest influencer in me deciding to focus my work on entrepreneurship. I am also very fortunate to have a wonderful partner in life. He has always encouraged me to pursue my dreams and be true to myself. My overall approach to life has been inspired by my faith, Islam, hip-hop and the interactions I have been fortunate to have with so many amazing people around the world.
What were some of your biggest challenges when you were first getting started?
Very early on, financing was a big challenge. Despite having perfect credit and a track record in the industry, I was rejected by every major bank. I ended up tapping into my network and discovering a new network of community lenders who gave me the financing I needed to get started. When it was all said and done, I had applied to over a dozen financing institutions and only two of them moved forward.
After I opened, there were many more challenges. Coworking is a relatively new concept, so I had to educate the market in Jersey City and convince them that it was a viable and successful way to conduct business. I often heard things like "Why would I want to share a space with other people?" or "This will never make it in Jersey City."
Getting the business to breakeven was another big challenge. Fortunately, I was able to breakeven in six months, but coworking is a very high overhead business, so you can never take anything for granted.
What research did you perform to minimize risk when you were first getting started?
Tons of market research. I visited every coworking space I could to understand my competition. I sent a survey out to every entrepreneur I knew in Jersey City. I wrote my business plan in WIBO, so I got feedback from a room full of entrepreneurs every week for 16 weeks. I looked at dozens of potential spaces. I pulled from Census data, SBA studies, and any research I could possibly find on entrepreneurship and small business in New Jersey and Jersey City. I also sat down with a fellow coworking space owner and picked his brain about every cost and system I could think of.
What was your mission at the outset? Has it changed at all since then?
The mission was and still is to provide a comfortable and professional space and community for entrepreneurs to work and grow.
What's your perspective on the future of solo/micro/entrepreneurship, and independent small business in Jersey City?
It is growing, but it has its challenges.
More and more people believe that they can not only live in Jersey City, but work and grow a business in Jersey City, so that is exciting. As companies continue to marginalize people and offer no long-term security, I believe the trend towards financial independence and security will grow in Jersey City and around the country.
I believe the biggest threat to entrepreneurship and small businesses in Jersey City is the rising cost of commercial real estate and lack of accountability landlords have to their tenants. I also think that as Jersey City continues to grow a reputation for being a great city around the country, larger businesses and franchises will take more interest in the city. It's important that small business owners and entrepreneurs educate themselves and implement sustainable business practices so that they can compete with the larger businesses and continue to be the heart and soul of Jersey City.
Have you formed any local partnerships that proved critical to your success?
The Historic Downtown Special Improvement District (HDSID) has been a great partner to us and was instrumental in getting the word out about Indiegrove at the beginning. Greater Newark Enterprises Corporation (GNEC) was one of the lenders who gave me the startup funding to get Indiegrove going and has stayed in touch and promotes Indiegrove whenever possible. Rising Tide Capital is doing an amazing job of supporting and educating local entrepreneurs and is always willing to share our good news and events. NJ Tech Weekly has always spread the word about us and celebrated our success. The Jersey City Mayor's Office of Innovation has always listened to us and included us in the small-business-focused conversations.
How do you think people living in Jersey City can best support the local economy?
Buy local.
Besides operating Indiegrove, what are some significant ways you support the local economy?
I am completely invested in Jersey City. Both my husband and I own businesses in Jersey City. We are invested in real estate in Jersey City. We buy local as much as possible. We send our daughter to daycare in Jersey City. We spread the word about good new businesses.
What can someone expect from an Indiegrove membership?
You can expect to be part of an amazing community. We have grown to about 200 entrepreneurs and independent professionals. The level of collaboration and camaraderie in the space is incredible. We are a focused and driven community, but we also have fun together. I don't think most people realize what is happening on the top two floors of 121 Newark Avenue in Jersey City. There are so many amazing ideas, projects and businesses, and there is no doubt that they will change the world.
What do you find most rewarding from operating Indiegrove?
Being surrounded by people who make things happen everyday.
What does the future of Indiegrove hold? Any exciting big news?
We expanded to a new floor last year, which gave us the ability to grow and expand our reach. This year is really about continuing to strengthen the community and provide opportunities for people to connect, learn and be successful. As for the future, all I can say is we are just getting started...
If you had one piece of advice for someone just starting out in their entrepreneurial journey, what would it be?
Write a business plan.
Indiegrove is located at 121 Newark Avenue in Downtown, Jersey City, across the street from Grove Street PATH station. Drop in any time Indiegrove is open for a look around, and bring your laptop and spend the day on free coworking Fridays (your first visit only). Follow Indiegrove on Facebook and Twitter, and call 201-589-2068 to learn more.
ALL PHOTOS TAKEN BY Melissa Blemur.
About the Writer
Lenore Holz landed in Jersey City in July 2001 and hasn't looked back. She helps others solve problems as Brownstone Concierge, crafts organic teas and fresh lemonade as Iced Tea Fusion, and teaches yoga as Lenorative Yoga. A self­-identifying progressive, Lenore is committed to her community through advocating for animals, the local economy, and keeping Liberty State Park free and green. Lenore can be reached at Lenore@BrownstoneConcierge.com. #SaveLSP